Alina Bobko is a social worker who worked with young people from SOS Children's Villages Ukraine in the Kyiv region. On the tenth day of the war, Alina was forced to flee her country. Although now safe, Alina, like many Ukrainian refugees, struggles with survivor's guilt.
Survivor's guilt is a mental health condition which can affect people who have lived through a traumatic, life-threatening event in which others didn't survive. For some people, it is physical: nausea, digestive problems, loss of appetite or insomnia, while for others it is psychological: leading to obsessions, feelings of apathy, panic attacks and more.
Alina's story
On 24 February, at 5 am, we woke up to explosions. My husband said it was just a dream and there was nothing to be scared off. Then the second explosion came, sirens sounded. We ran to the windows. We realised that something bad was going on, but still couldn't believe it. We hoped it was just fireworks somewhere close.
Vova, a young person from the SOS Children's Village who had been staying with us, was back in his apartment that night. I immediately called him. He said he was sleeping, tired from his work shift the previous day, and hadn't heard anything. I told him to come to us right away.
We stayed at home in Brovary for two days. We realised that the situation was getting really scary. With us was my four-year-old nephew, the son of my sister who went to Georgia a few days before the invasion. There were five of us – me, my husband, our twelve-year-old son, Vova and my little nephew.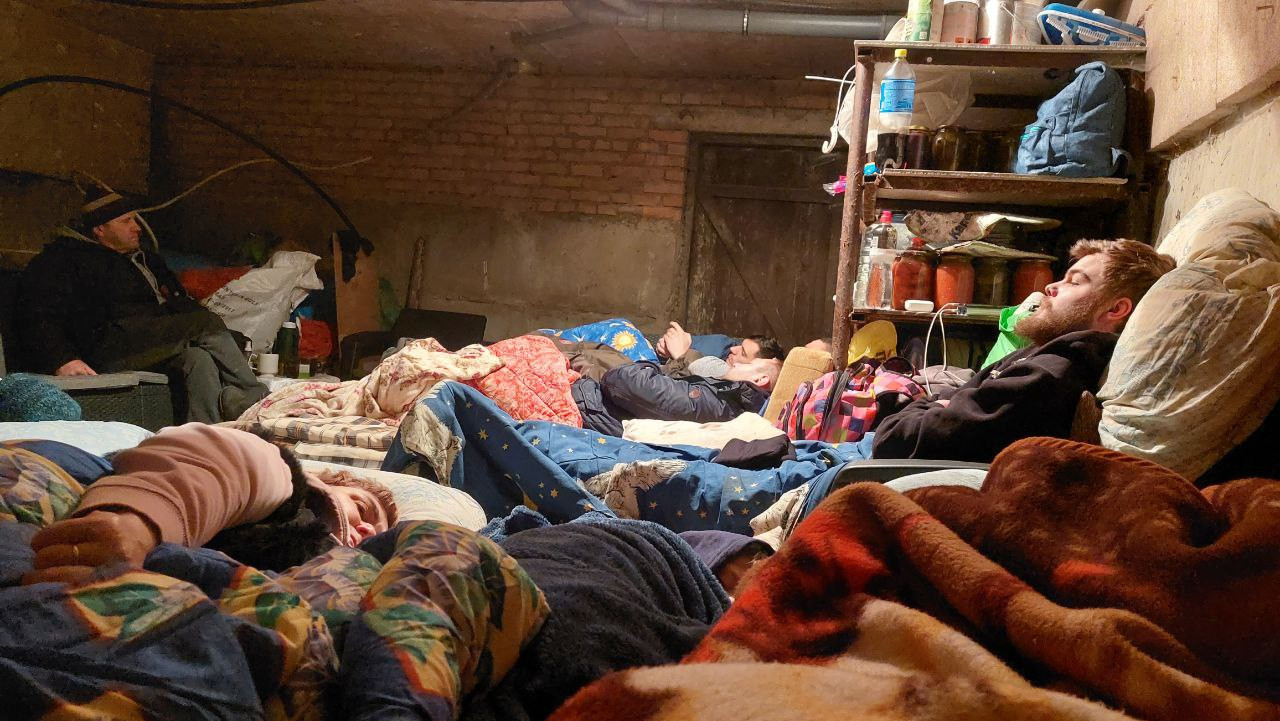 We taped the windows and prepared a hiding place. We soon realised that this was not very safe, but neither was running to the nearest bomb shelter because it wasn't close to us.
On 26 February, we decided to go to stay with relatives outside the city to shelter in their basement. There was no sense of safety there either. Their home is not far from the Boryspil airport, so when there were explosions at the airport, we could hear it all.
We didn't plan to leave. But, because of the explosions and the constant danger, we decided to take my son and nephew to safety. I saw that they were already having nightmares. While sleeping, they would shout, jump as if trying to run somewhere. My nephew developed a nervous tic.
My God, it was such chaos. We found a train that was leaving from Kyiv to western Ukraine. For us it didn't matter where we would go. The most important thing was to go far away from what was happening. There were already military checkpoints, it was already getting difficult to leave the place where we were. After three days, I went with my son, nephew and my mother's sister on a train to Uzhhorod (in western Ukraine, at the border with Slovakia).
It was very difficult to leave Ukraine. First, on the way to Uzhhorod, we spent 17 hours standing up on the train. My son slept standing, leaning on my shoulder. We wanted to take my nephew to a compartment, but there were 15 people in there. Many people got off the train in Lviv, and then could sit on our backpacks.
Our plan was to stay and wait in western Ukraine. Then we heard the advice to leave with children and go to Europe if there were any relatives there. The information said that it would be a difficult night. To be honest, I am absolutely confused now with dates. I don't know what happened when. I just know they were talking about a difficult night coming, and right at that moment we decided to go further. It took us another 24 hours to get to my sister's home [in Central Europe].
Now, to be honest, emotionally I feel much worse than at home. Here I am without the man who could calm me down – my husband. I think I would be able to relax a little if he was here. My husband and Vova are now in a different region, but they still sleep in basements. Thinking of this has me fall to pieces.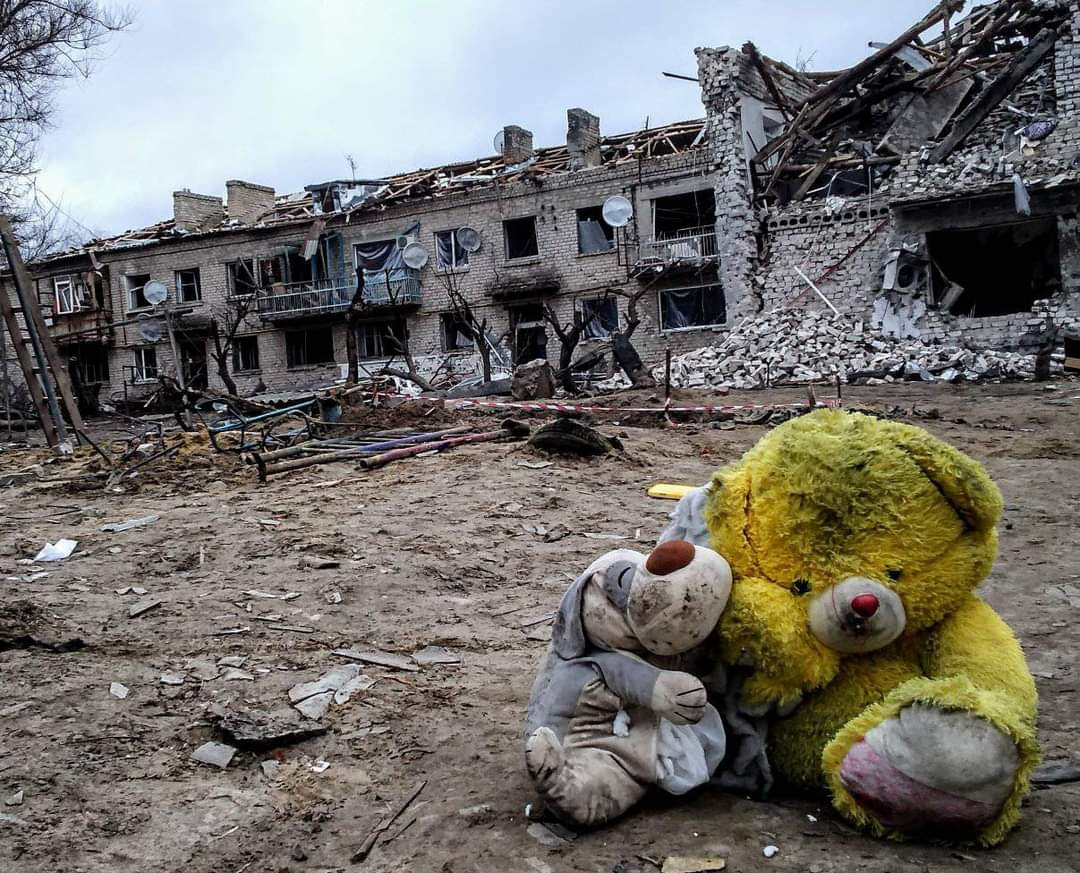 Here, already on the second day I started to feel a strong emotional burden. I feel guilt. I understand that I am safe here, nobody is shooting here, I don't need to run anywhere, I am in a warm place, the children and I are cared of. Emotionally I feel much worse here than when I was in Ukraine. I have my husband there, Vova, my relatives.
I am also in constant contact with the young people [from SOS Children's Villages]. I had a call today with some young people. Five of them are in a village in Kyiv region where a church was bombarded. They are all fine. I am in regular contact with them and they say now they are OK.
Sometimes young people call me at night. Night is the time when you think more and start to feel emotionally a lot worse. I hear the fear and anxiety in their voices. I feel that after such calls I need professional help myself. I am a trained psychologist and I understand that I won't be able to help young people if I don't have a chance to also take care of my own emotions.
I used to do charity work, take things to the needy, help with advice. Now in a foreign country, people help my family. It is a very strange feeling to be on the receiving side. But I, like millions of Ukrainians, believe that I will return home, rebuild our lives and reunite with my family.
Back to all news
Subscribe to our newsletter
If You wish to receive news about SOS Children's Villages work, training and support programs, enter Your email address - You can cancel any time. Read our privacy policy (in Latvian) for detailed information about how we process Your personal data.