At a time when the usual life of many people in Ukraine collapsed within a few days and thousands of people went to Europe, including Latvia, in search of asylum, we started supporting Ukrainian asylum seekers by attracting the funds of both local donors and the international SOS Children's Villages Association.
The goal is to provide all kinds of support to children and families who have come to Latvia from Ukraine as asylum seekers. The focus of our activity is on the most vulnerable part of society - children, new mothers and families.
Specialists in various fields work so that asylum seekers from Ukraine orient themselves and adapt to the new conditions as quickly as possible, so that people's lives return to their usual daily rhythm - children continue to study, play sports and develop their talents, parents work.
We have especially thought about expectant and new mothers, ensuring the support of emotional first aid specialists (PEP mothers), organizing support and training groups throughout Latvia.
We want to provide all possible support and help to asylum seekers from Ukraine to start an independent life and become a part of our society for the time when Latvia is their home. And when the time comes, people will be able to return home to Ukraine, full of strength and in a positive mood.
We offer material, psychological and legal support
Specialist services:

Social Worker
Psychologist
Supportive therapies
A lawyer
Translator
Support platforms for students

Material support:

Food, etc. purchase of goods
Provision of Internet connection for students in studies
Transport costs Diapers,
baby food
Payment of medical services

We organize various activities for children

Summer camps
Creative campus
Outings and excursions
Sports activities

We support PEP moms

Mother-baby support groups
Individual consultations

We organize support events for emergency guardians

Support groups
Consultations of social workers
Please call if your family needs support:
basic necessities - food, clothing, household goods, medicines, school supplies, etc.;
need help navigating the health care system and services;
drawing up documents, understanding local conditions, state and local government social assistance, including benefits, obtaining emergency guardianship status, etc.;
finding a school, kindergarten or interest groups for the child,
solving the learning problems that have arisen;
searching for a job or place of residence;
talk to someone who will listen if your heart hurts,
you feel anxious or you can't see a solution to a problem; meet other guardians, participate in support group classes or any joint event;
and also in any other matter - even if it is not within our power to solve it right away, we will definitely come up with a solution!
We also cooperate with other non-governmental organizations, Riga Social Service, Orphan Court and others. institutions, including voluntary supporters and donors.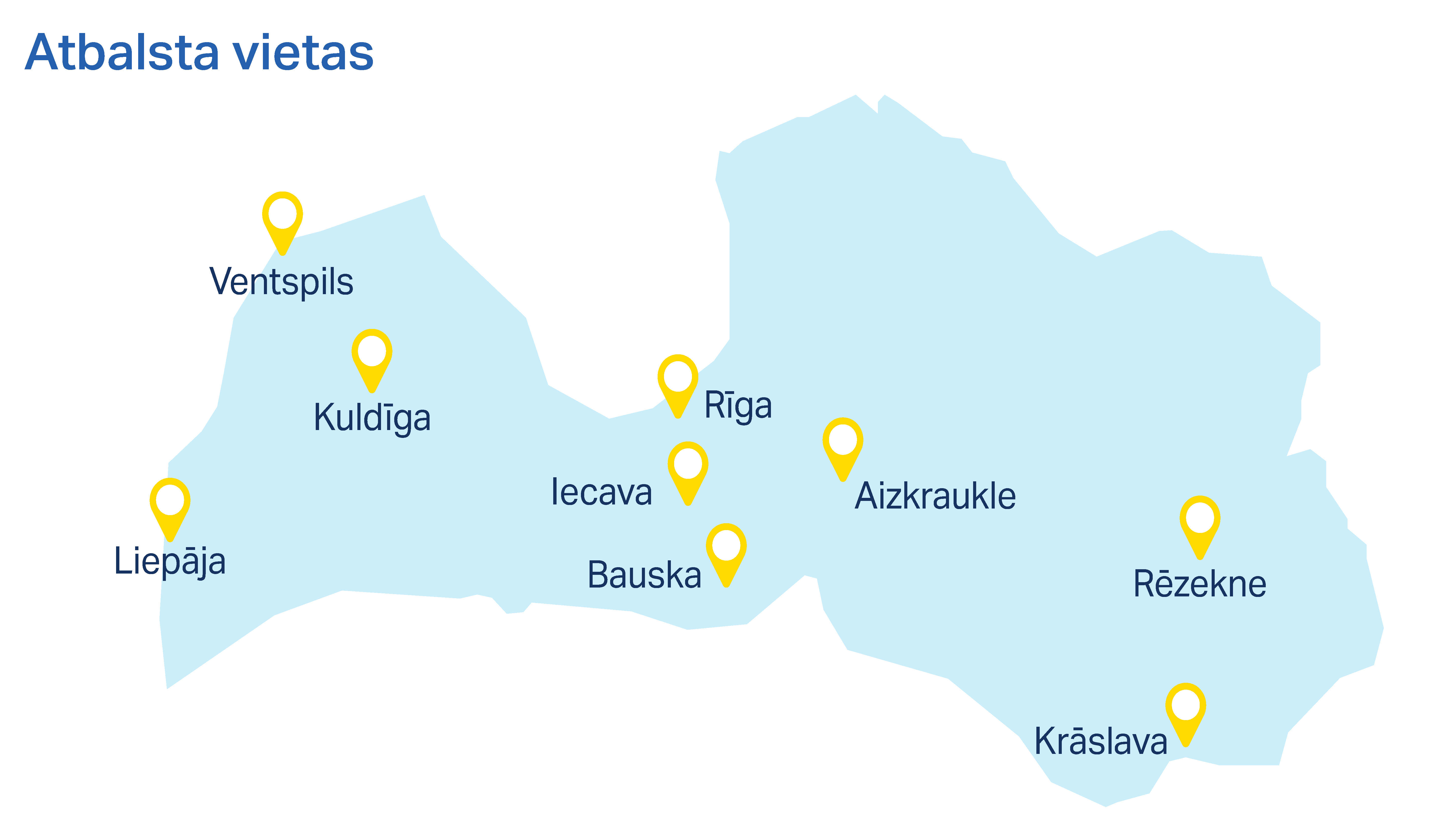 Contacts
Please call if your family needs support in any other matter - even if we cannot solve it right away, we will definitely find a solution!